2009 Weekly Blog
Alex Miner
August 9
August 30th
More Tongue Twisters
An Interview with Neil Fanning
Nikaho Quiz
Halloween's Coming
An Interview with Jeremy
Halloween Photos
The Swine Flu
Self-introductions
Coming Soon
Junior High School
JHS Part 2
JHS Part 3
JHS Part 4
JHS Part 5
A New Year Wish
Hello Everyone,
Our city will be losing our 3 wonderful ALTs (assistant languague teachers) this month. Therefore, in this week's blog we will hear from Alex Miner.Thanks for a fantastic two years, Alex!


   Nikaho has been a great place to live these past two years.  First, I love the natural scenery of Nikaho, especially the waterfalls, Misaki Park, Kunpuen, and Mt. Chokai.  If I had time, I would walk on every trail in Nikaho and bicycle on every country road. Even after two years, I'm still impressed by the cranes and the hawks in the rice fields, and by animals in the woods that I've never seen before.  Luckily, I never encountered a bear.  I come from a state with no real mountains and no sea, so I think that the landscape of Nikaho, and of Akita in general, is captivating.  It's a great place to be alone and experience nature.

   In town, elementary school students and junior high students always wave and greet me.  It often makes riding through town on my bicycle a pleasure.  At school, I'm very impressed by how quickly most of the children in Nikaho learn English and other subjects.  They often surprise me by using English expressions in the halls that they had just recently learned in class. Although some were shy, many others enjoy asking me questions, using English words when possible.  This happens at both the elementary school and the junior high school.  After two years, it makes me proud to see students who I had once known as fifth graders at Hirasawa Elementary become first graders at Nikaho Junior High.  They grew up very fast.

   Hirasawa Elementary School is a wonderful place.  The building is beautiful and the teachers and students have become good friends.  There were always many surprises there.  Without warning, I found myself participat-ing in a tea ceremony, watching fourth graders make tofu, playing volleyball against the sixth graders (and losing), running in a hula-hoop during the sports festival, dressing up as a namahage, and having many other experiences.  The faculty there was always careful to include me in school events, and eager to practice English with me, especially Yoko-sensei, Shoko-sensei, and Ishikawa-sensei.  I owe them many thanks.  I feel good knowing that Jimmy, my successor, will have a warm welcome there.

   My work outside of the schools was rewarding too.  I especially enjoyed giving presentations for AIS and ACES, and helping ECC, Nikaho Kindergarten, Sloan, Kristin and the city of Nikaho itself, who in turn helped me with many things as well.  Nowhere else but Nikaho would I be willing to dress up as both Santa Claus and the Easter Bunny within the same few months.  Of course, the time I spent with the visitors from Shawnee, Oklahoma, and preparing Nikaho Junior High School students for their trip to Shawnee, was a lot of fun too.  The coordinators of all these events were very friendly and respectful to me, and I'm grateful that they gave me the opportunity to participate.  In particular, Yuu-san, Yoshi-san, Oba-san, and Kiyoko-san were good people to
work with.  Everyone in the Board of Education was very helpful as well.  In the very beginning, they were there to show me around and help me with all the essentials of living that are easy for most people, but difficult for a foreigner like me who speaks broken Japanese.

   Above all, my adult class was the most rewarding.  The students were residents of Nikaho and nearby cities who were eager to learn advanced English.  And they were especially curious about me, which boosted my ego.  Overall, I think they helped me more than I helped them.  I learned a lot about Japanese holidays, traditions, customs, politics, and pop culture, as well as a lot of practical knowledge about living in Japan.  Without them, my experience in this country would not have been nearly as rich and satisfying.  Tadaya-san invited me to many local gatherings, including beech tree plantings and charity events.  He also submitted articles to Hanabi, Akita's English language magazine for ALTs, of which I'm the editor.  Naomi-san, Mika-san, Yukiko-san, Jinko-san and "Harry" were like ambassadors for the towns and cities beyond my section of Nikaho.  Kiyoko-san, Oba-san, Hatoko-san, Ai-san, and "Oscar" were like ambassadors for Nikaho itself.  Most importantly, Akemi-san, Yukari-san, and Asari-san always helped me when I had a problem.

   There are many other people who also made my time in Nikaho easier, including my friends Mari-san, Naoyuki-san, and their families.  Hopefully, I didn't leave anyone out.  I have lived in many places in Oklahoma, but I doubt I will look back on any of those towns with the same fondness that I do Nikaho.  It was my home for two years, and felt like home as well.  In general, Nikaho has a lot to offer a visitor from abroad.  I won't forget this place and I won't forget the kindness that its citizens have shown me.

   Alex Miner


 Life is precious! Last week I got a call from mother concerning father's health. He was hospitalized, however he is home now.  I flew home last Sunday to be with him and the family.  Dad will live the remainder of his life in bed. We don't know how much longer he will be able to hang in there. We take one day at a time. We are grateful for pleasant conversations about family, memories of the past, normal chit-chat, or mere silence. There are good and difficult times. I am thankful for a special father with all his imperfections, he cared for our well-being over the years.  This week's blog is for you dad.  Thanks for everything, Dad!
Dad passed away on September 18, 2009
Kristin: What's up, Sloan?

Sloan: In this week's blog, I want to try out the new audio recorder that I am going to use in our kids' game site.  I think it will be enjoyable for you.

Do you know what a tongue twister is?  A tongue twister is a phrase that is difficult to say.  You try to say it as fast as you can without making any mistakes.  Today Kristin and I will compete against each other.  Here is an example of a famous tongue twister:

"How much wood would a woodchuck chuck?"


How much wood would a woodchuck chuck
if a woodchuck could chuck wood?
He would chuck, he would, as much wood as he could,
and chuck as much wood as a woodchuck would chuck
if a woodchuck could chuck wood.

We will practice twice and you will hear us say the tongue twister as fast as we can.  Who do you think will win, the young woman or the old man?

Sloan: Are you ready, Kristin?

Kristin: I was born ready! (listen to us saying the tongue twister by clicking the above audio buttons)

Now it's your turn!  Click the "next" button below and the audio recorder will open.  Then click the red "record" button and begin talking (a headset is necessary).  When you are finished, click the blue square button.  To hear your voice, click the triangle "play" button.  You can record your voice as much as you like.  Don't worry...your recordings won't be sent to anyone.  When you close the webpage, your  recordings will be erased.

Have fun and compete with us!  Are you faster than us?  We'd love to hear your comments about the recorder.  Talk to you later! By the way, congratulations, Kristin! You're the winner!
Week Two

More Tongue Twisters!

Last week we tried a tongue twister and had a lot of fun saying it. We heard from a couple of people that it
was fun trying to say it and hearing their voice on the recorder. So we decided to record more tongue
twisters this week. If you listened to the recordings last week, you realized that Kristin beat the old man. So this week Kristin will compete against herself. Let's see which half wins.




Betty Botter had some butter,
"But," she said, "this butter's bitter.
If I bake this bitter butter,
it would make my batter bitter.
But a bit of better butter--
that would make my batter better."

So she bought a bit of butter,
better than her bitter butter,
and she baked it in her batter,
and the batter was not bitter.




Peter Piper picked a peck of pickled peppers.
Did Peter Piper pick a peck of pickled peppers?
If Peter Piper picked a peck of pickled peppers,
where's the peck of pickled peppers Peter Piper picked?




I wish to wish the wish you wish to wish,
but if you wish the wish the witch wishes,
I won't wish the wish you wish to wish.




Fuzzy Wuzzy was a bear,
Fuzzy Wuzzy had no hair.
Fuzzy Wuzzy wasn't fuzzy, was he?



This week I have the privilege to interview one of our three new assistant English language teachers
(ALT) for the City of Nikaho, Mr. Neil Fanning. Let's get started.
Sloan: Hello Neil, where are you from?
Neil: Hi Sloan, I am from Edmonds, Washington; a medium sized town 15 to 20 miles North of Seattle
Sloan: Where did you graduate from and what is your degree in?
Neil: I graduated from the University of Washington with a degree in English, emphasis on literary analysis.
Sloan: Is this your first time living in a foreign country?
Neil: I have done traveling to various countries before, but this is my first time to live in a foreign country.
Sloan: What do you hope to experience while you are in Japan?
Neil: Japan is a country of rich cultural heritage, scenic beauty, and friendly people. I hope to experience as much of all three as I possibly can.
Sloan: Tell us about your job?
Neil: I currently work as an assistant language teacher at Kisakata Junior High, Kamigo and Kamihama Elementary. I love working with the kids who make my job such a blast.

Sloan: How do you like living here in the country? Tell us what it has been like so far?
Neil: Living in Japan is certainly a very different place from Washington, but learning a new culture getting to know more about the people who live here is an amazing experience.
Sloan: Do you have any hobbies or interests?
Neil: My hobby is Karate.I also love to read, play sports, watch anime and play Horn, although it has been a while since I've played.
Sloan: What are your likes and dislikes?
Neil: I really like physical activity, food, music, and new experiences. I also like learning Japanese and the culture of Japan. I don't like things that maliciously hurt others in general.
Sloan: Tell us more about yourself.
Neil: I am 24 years old; born February 23, 1985, 170 cm tall and 65 kilograms. My blood type is A, Pisces in Western Astrology, Ox in Chinese.I was a vegetarian for 13 years before coming to Japan. Now I eat everything. I came to Japan with the plan of keeping an open mind and trying new things, so barring a few exceptions, I will try as many new experiences as I can.
Sloan: Are you interested in traveling Japan?
Neil: Yes, very. Maybe not immediately, but I definitely want to see as much as I can.
Sloan: Do you have a message for our readers?
Neil: If anyone wants to speak some English, you are welcome to talk with me anytime. Any help learning Japanese will also be greatly appreciated.

Hello everyone,
We are back this week and with the help of Jinko Sato and Kristin Clumpner we have written a quiz about our city. Take the quiz and learn a little about our lovely city.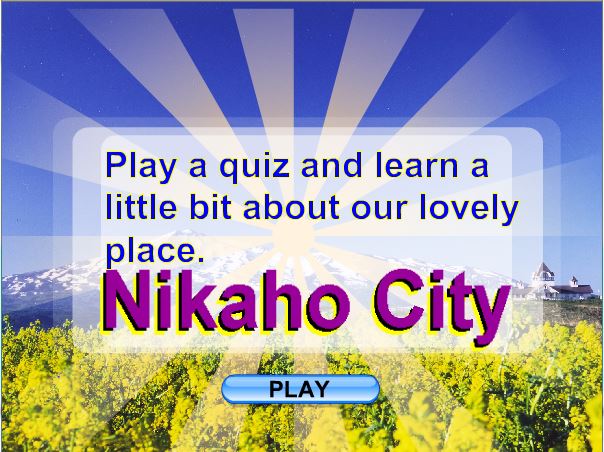 When you finish you may enter your name and register your score or ignore doing it. Have fun!
Halloween is around the corner and our Halloween parties for the children and adults have been planned. Anyone may come and join the fun for our adult party. For more information about the party, click "here". We have prepared a Halloween crossword puzzle for you to get into the Halloween mood. Give it a try! The answers are below to help you.
Some of the answers are a play on words (おもに単数形で》しゃれ、地口、語呂合わせ、言葉遊び、しゃれを言う、駄洒落を言う).
Here is a fast way to look up the Halloween words below:
Copy: http://ses-kisakata.com/blog.html
Click "here" to open popjisyo.com
Paste: http://ses-kisakata.com/blog.html
into popjisyo's URL box. Click: Go

You will now be able to use the on-line dictionary.
The Answers
skeleton, spook, spelling, ghoul, sheet, lab, slime, boo ,bloodhounds, scare, dig, stake, frostbite,wrap, ahead
This week I am fortunate to interview another of our three new assistant English language teachers
(ALT) for the City of Nikaho, Mr. Jeremy Milne.
Let's get started.

Sloan: Hello Jeremy, where are you from?
Jeremy:  Hi Sloan, I am from Wellington, New Zealand.  Wellington is the capital of New Zealand.


Sloan: Where did you graduate from and what is your degree in?
Jeremy:  I have a bachelor's degree in history and politics from Victoria University of Wellington.  I have a master's degree in international relations from Nanyang Technological University in Singapore.


Sloan: Is this your first time living in a foreign country?
Jeremy:  No.  I studied for one year at the University of California, Davis on an exchange programme in 1994-1995.
I was an English teacher on the JET Programme in Shizuoka prefecture, Japan for two years from 1997 to 1999.  I studied for one year for my master's degree in Singapore. So this is my second time living in Japan and my fourth time living in a foreign country.


Sloan: What do you hope to experience while you are in Japan?
Jeremy:  I hope to experience some of the beautiful nature in Akita prefecture by hiking.  Please recommend some nice hikes for me.  I would also like to learn the Japanese board games, "go" and "shogi".  Please teach me!  And I am sure I will experience living in a snowy place for the first time.  Most importantly, I want to make friends with local people.


Sloan: Tell us about your job?
Jeremy:  I teach English at three schools and one pre-school.  On Monday I teach at Konoura Primary School (Elementary School in American English).  On Tuesday I teach at Kamagadai Combined Primary and Intermediate School.  On Wednesday, Thursday and Friday I teach at Konoura Intermediate School (Junior High School in American English).  And twice a month I teach at Seishi pre-school in Konoura.  They are all great schools with good teachers and friendly students.  I like the small size of the schools.



Sloan: How do you like living here in the country?
Jeremy:  The countryside is beautiful.  We are surrounded by beautiful nature - the mountains and forests on one side and the sea on the other side.  I like the changing colour of the rice fields - from green to yellow.  The people are very friendly.  And there is lots of space.  And now that we have a car, it's not hard to do the things we need to do and buy what we need.


Sloan: Do you have any hobbies or interests?
Jeremy:  I enjoy hiking and reading books.  I am interested in Japan because it was the first non-Western country to become modern.  I am interested in Japanese culture, history, literature and politics.  I like traditional Japanese architecture like castles, temples and shrines and samurai houses.  We don't have old buildings in New Zealand, because we have a very short history.  I also love Japanese gardens.


Sloan: What are your likes and dislikes?
Jeremy:  I don't like spiders or cockroaches.  I also don't like to eat shellfish.  I like trees and eating fruit.  I like travelling by train or car to new places.  I like volleyball and table tennis.  I like hot springs.  I like eating dinner with old and new friends.

Sloan: Tell us more about yourself.
Jeremy: I am 35 years old.  I am the youngest of three children. My brother is five years older than me, and my sister is eight years older. My wife, Asuka, is Japanese.  She is from Fuji City in Shizuoka prefecture.  We have one four year old son, Ken.  Asuka and Ken speak Japanese and English.  I'd really like to improve my Japanese while I'm in Japan.


Sloan: Do you have a message for our readers?
Jeremy: If you see me or my family, please talk to us.  We don't know many people in Akita yet, so we would like to make new friends.  We would really like to get to know you. 

We celebrated Halloween a week early this year, but had a great time! On Thursday the older kids carved pumpkins, while on Saturday the kids went trick-or-treating around the neighborhood and got enough goodies to satisfy their stomachs. They especially liked the hot dogs and caramel apples. The kids received an annual Halloween belt, assorted bookmarks and a neat Halloween stamp along with other sweets. This week during class we will play Halloween games. You will be able to see more of our Halloween celebration after the Halloween web page is finished. Hope you have fun at your Halloween events this year.

  

  Last week we canceled our Children's Halloween games and only went trick-or-treating because of the H1N1 flu (or also called the swine flu). The good news is that we played the Halloween games in class last week and no one got the swine flu in our small school.The Halloween games were a lot of fun! It was because the swine flu affected our event that I decided to insert a public announcement about the swine flu as this week's topic.

It will give our blog readers some reading practice on what a government agency in the states says about how to keep from getting the swine flu. I think most of you will be able to understand it. Good luck!

What You Can Do to Stay Healthy

Get vaccinated. Vaccination is the best protection we have against flu. Seasonal flu vaccine is available now and initial doses of 2009 H1N1 flu vaccine also are available, with additional doses available later this year.
Influenza is thought to spread mainly person-to-person through coughing or sneezing of infected people.
Take everyday actions to stay healthy.
Cover your nose and mouth with a tissue when you cough or sneeze. Throw the tissue in the trash after you use it.
Wash your hands often with soap and water. If soap and water are not available, use an alcohol-based hand rub.
Avoid touching your eyes, nose and mouth. Germs spread that way.
Stay home if you get sick. CDC recommends that you stay home from work or school and limit contact with others to keep from infecting them.
Follow public health advice regarding school closures, avoiding crowds and other social distancing measures.
Find healthy ways to deal with stress and anxiety.
Stay informed. This website will be updated regularly as information becomes available.
Call 1-800-CDC-INFO for more information. (link:

http://www.cdc.gov/N1FLU

)


We will be doing simple self-introductions every Wednesday night this month during the "Night Owl Chat" sessions. You need to do 3 things to join us. Go to one of the following pages:


http://ses-kisakata.com/internet_classes_jp.html (Japanese)
http://ses-kisakata.com/internet_classes.html         (English)

Click the Skype button to download the Skype program. It is free.  Next, sign up for a "Night Owl Chat" session. The last thing to do is buy an inexpensive headset/microphone for your computer.  Kristin and I have made 2 simple examples of self-introductions. You can see them below. We will have some free conversation after everyone finishes their self-introductions. It should be fun!

Self-introduction


Who are you? Tell us 10 things about yourself. Below are some questions to help you write your self-introduction.


What is your name?
Where do you live?
What do you like?
What are your hobbies?

Kristin Clumpner

I'm Kristin Clumpner.  I'm from Anacortes, Washington.  I have one brother, and he lives in Okinawa.  My brother and I both teach English.  My hobbies are horseback riding, baking, and swimming.  I like to travel to other countries.  My favorite country is France.  I went to university in Paris.  Next summer, I want to travel to Hokkaido.

Sloan Carlson

I am Sloan Carlson. I am from Buena Park, California. I am fifty years old. I have five sisters. I came to Kisakata in 1996. I got married in 2000 to my wife, Hitomi. We have one son. He is 5 years old. We live in Kisakata. I have a small English school in Nikaho.



Once upon a time there was a young boy in America who went to an ordinary high school. His first two years he studied Spanish. He tried his best for the first couple of months, however the class just got harder and harder. Soon thereafter, he lost his motivation and his grades began to fall below average. He looked forward to the day when he no longer had to learn Spanish. Did you ever feel that way with English? I wonder how many of us are like this boy.

Last week I asked several of my junior high school ninth grade students to write their self-introduction for the blog. They thought it was a good idea. They are some of the few that after 3 years of junior high school English, they still like the language. I envy them.

Most of the kids will introduce themselves with a nickname or a fictitious name. I have made few corrections. I asked them to write their self-introductions in Japanese at home. The next week they spent one hour writing them in English. I allowed them to ask me questions concerning grammar, spelling and expressions; however I gave them the freedom to write anything they wanted.

I think they all did a really good job! I hope you will enjoy reading them in the next several weeks. We will possibly also be doing a topical interview with the kids. Until then…





Week One
This week we will start the junior high school ninth grade self-introductions. Our first young lady is very delightful. I think you will find her very interesting. We hope you enjoy learning about the young kids during the next month!


Hello,
My pen name is Yuki Akatsuki. I live in Kisakata and I'm in the ninth grade. I've gone to Sloan's English School since I was in the second grade. My favorite foods are curry rice and ice cream. I hate lemons, grapefruit and Japanese spaghetti. My favorite drinks are grape juice and milk tea, but I don't think American milk tea is very good.
I love rabbits very much, but if I could have a pet, I would have a cat. I'm absorbed in the game, "Pokemon Heart Gold". I've loved Pokemon since I was a child, and there are many Pokemon dolls in my room. I'm reading a book written by Daniel Keyes. The title is "The Milligan Wars". I'm interested in Daniel's books since I read the book entitled, "Flowers for Algernon".
I play the piano and saxophone. They are both difficult, but interesting to play. My hobby is writing poems. I enjoy writing poems of my ordinary life from daily inspirations. I'm good at telling one's fortunes. Some things that I see about a person's fortunes come true. My best grades are in English. I like music the best, but I like English second. I entered an English speech contest and I got fifth place this year. I enjoy my world of English because I go to Sloan's English School.  I hope to use English well, so I want to continue my class.
Week Two
Hello,
 I'm Emily S. I'm a ninth grader. My birthday is September 15th. I have many favorite foods. I like spaghetti, stew, gratin and chocolate. I hate many things also. I hate milk, corn, bean paste and rice. I don't hate as many foods as I used to.

My favorite musician is Aiko. I'm glad to know I'm as tall as Aiko and I'm as heavy as Aiko. Her famous song is "Kabutomushi". I like the song, but I like all of Aiko's songs. I am impressed with Aiko's songs of Ballad and her up tempo songs cheer me up. It's always fun to listen to her songs.

I like classical music also because I'm a member of the brass band club. I used to play the flute and piccolo in my club, but the club has ended for me. I like the flute very much. The sound is very soft and very beautiful. It is easy to get absorbed in the sound. I like the beautiful sound very much. I like the piccolo very much. The sound is very cheerful and very bright. It cheers me up when I play the piccolo. I have continued playing the flute and piccolo for three years. I have a lot of great memories of my brass band club. There was a time when I wanted to quit playing the flute, but I love it now. I want to continue playing the flute in high school.



Week Three

I'm Rei. I'm a ninth grader at Kisakata Junior High School. I was a member of the kendo club and I practiced hard, but I did not participate in the Tohoku Kendo Tournament. I cut my hair shorter than the boys to demonstrate my fighting spirit. I'm a girl, but some people always make the mistake of thinking that I am a boy. I'm through with kendo. I don't have short hair now. I want to have medium long hair in the future.

I'm a tomboy. My girl friend said to me, "please be more like a girl". A boy in my class said to me "you're like an older man". I buy and look at fashion magazines, but I can't buy fashionable clothes because they are too expensive. I don't know what looks good on me. Someday, I will become a beautiful woman and everyone will be surprise.
Next, I will tell you about things I like. I like rice. I feel strange when I don't eat rice during the day. I can live on rice, salt and miso soup. Miso soup made by mother is as delicious as rice. I like wakame miso soup best. I want to make miso soup that tastes like my mother's miso soup. I want to make hamburger steak, too. It is the most popular meal in my family. I like the lunchboxes made by my mother because she doesn't put in frozen foods. So I think a lot of love goes in a lunchbox.

I have many things I like, for example kendo and music. If I find something I like or something interesting, than I can enjoy the entire day. What things do you like?


Week 4
My nickname is Akizaki Kaname. I'm fifteen. I go to Kisakata Junior High School. I like reading historical novels. My favorite writer is Doumon Fuyuji. The book written by Doumon Fuyuji is very exciting. I like a book about Ishida Mitsunari, too.
My favorite historical people are Hijikata Toshizou and Ishida Mitsunari. Hijikata Toshizou was a member of the Shinsengumi in Kyoto in the Edo era. He was very strict. He was called, "The devil" by the people around him, but I respect him. His life-style was nice and beautiful. I want to have a life-style like him. Who do you respect?
I also like Ishida Mitsunari. He was hated by people. He was very cold hearted, but he never gave up. Someday I want to take a trip around the world. My favorite places are my classroom and our school library when there is no one there. I love a silent classroom. I also like to clean my classroom by myself.
I'll introduce my friend to you. I have many girl friends. Two of my girl friends are Yuki and M.S. Yuki is very cool, but sometimes she is very cold. She is very cute. M.S. draws pictures very well. She studies hard. She is very nice. My boy friends are Yukichan and Tacchan. Yukichan is a very kind boy. He is very interesting. He always gives me many sweets, for example candy and chocolate. Tacchan is very nasty, but sometimes he is very interesting. He always steals Yukichan's writing implements and he laughs. I always have a good time. I will be a high school student soon.
I want to laugh forever!
Week 5
This is our last week with our junior high school kids. We hope you have enjoyed reading about the kids the last five weeks. I know the class has had fun doing their self-introductions.

I'm a ninth grader at Kisakata Junior High School. My favorite foods are curry udon, tarako spaghetti, kiriboshi daikon and ramen. I like instant curry udon the best. The foods I hate are raisins, black tea and coffee. I hate foods that are too sweet or too bitter. So there are lots of foods I hate.
I love pineapple by itself, but I hate pineapple in other foods. Why do people put pineapple in other foods? I can't believe people put pineapple in things.
I was a member of the brass band club. I played the percussions. There are lots of percussion instruments. Club was very fun. I don't know, if I will enter the brass band in high school. I'm studying for my high school entrance test now. I'm good at math and English, but not very good at Japanese and science. I'm not good at social studies, either. I must get better at them because I'm preparing for my entrance examination. I love to play TV games and take naps!

Christmas is over and the New Year is just around the corner. I want to wish you all a happy New Year and many
blessings in 2010. My blog has finished its first full year, so I want to thank all of you blog readers and those who have
help me with the blog. Thank you all! I will redesign the blog in the next two weeks, so it will be a little more user
friendly and open quicker. We will be back with the first blog of the new year on January 9. Until then, may your 2010
start with joy, peace and health.   



C

hanged the

B

log design on Jan. 5, 2

0

1

0